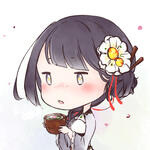 @shoyukatsudon
shoyun
vocals and va · original lyrics and melody · harmony arr.
sort of art · sort of mix · sort of 2D/3D model and rig
---
Hello, Youtaite / VSinger here, primarily active on YouTube!

You may know me as Shoko or Shokoどん. I rebranded late spring of 2021 after redesigning, modeling, and rigging my OC in the winter.

My most well known works are probably my collaborations with ayiko ("Tashikametai Nukumori", "Candied Apple", "Teichopsia", "Kuudere Love"), and covers of "Your Reality" (A Cappella) and "Kawaki wo Ameku".

Thanks so much for stopping by!
---
Recent Uploads
---
Commission Status: CLOSED

Please email for inquiries.
DMs open for collaborations!
Member of:
SACRAMENTVM | R1 | R2 | MSCB 2019, 1st placeHoshi O's | R0 | R1 | R2 | R3 | KACB 2020-2021, 1st placeS•O•M | R1 | R2 | SCB3 2020森林浴 | R1 | R2 | R3 | LSO 2019T.O.F.T.S. (too old for this shit) | R1 | R2 | R3 | KNRCB 2021, 1st placeSee this playlist for a full list of collabs!
Artist on Youtube and Spotify
Vocalist and Lyricist with ayiko, Nuzix, and SACRAMENTVM
Maid at Arcane Cafe
I speak English (U.S.) and Mandarin Chinese (Taiwan) fluently, though I'm very illiterate in Chinese... I have been singing in Japanese since around 2005, dabbling in Japanese voice acting since 2012, and studying the language on and off since 2014.

When writing Japanese to English translyrics, I work mainly from the Japanese lyrics, and then consulting several English translations when possible.
Translyrics
Original Lyrics (Melody Provided)
Original Lyrics and Vox Arrange
The below tracks were composed in collaboration with the SACRAMENTVM audio team (Zal, Roze, Kyune, myself).

I wrote the lyrics for both pieces, composed the vocal parts and rough chords for Mvmt I's chorus, composed portions of Mvmt II (not very clear cut who wrote what with this one), and lead the composition collab effort for Mvmt II. I guess I also lead the CB group but I'm a fairly passive organizer.....

Please see the video descriptions for full credits!
Harmony Guides + Ad-lib Arrange
Harmony and ad-lib guides are provided in one of the following forms:
Sheet musicRendered with lyrics using Synth VSung/recorded... quality varies.....
Currently, I only make guides for collabs, but I'm happy to share whatever I can dig up from my computer!
Music Arrangement
In addition to writing melodies, harmonies, and ad-libs, I do a bit of transcription and music arrangement.

For some reason these are all a cappella. All of my transcriptions are still wips... oops. Will either upload them soon, or I'll throw them in a fileshare. Please reach out to me in the meantime, if you would like samples.
Vocal Editing
I use the Melodyne 4 Assistant with Reaper.

Below are some group projects for which I helped with tune/time. I time and tune for all of my solo covers and original works with ayiko.

WoTCB: time + tune
TB:A: time + tune
LSO2019: time
MSCB: time + tune, with tune support from KYUNE
beep beep under construction